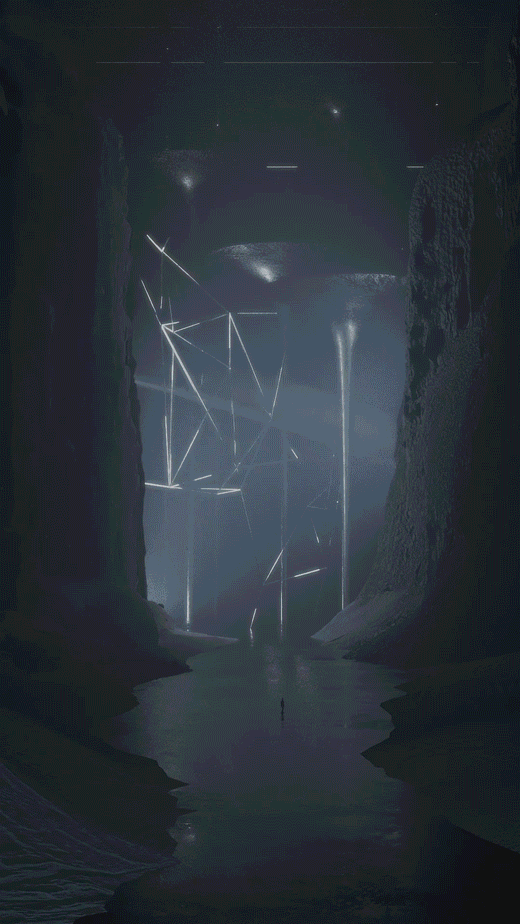 本次Hyperscreen虚拟媒体艺术节在线上线下同时进行。线上部分通过VRchat呈现。
The Hyperscreen Virtual Media Festival took place both online and offline. The online part was presented on VRChat.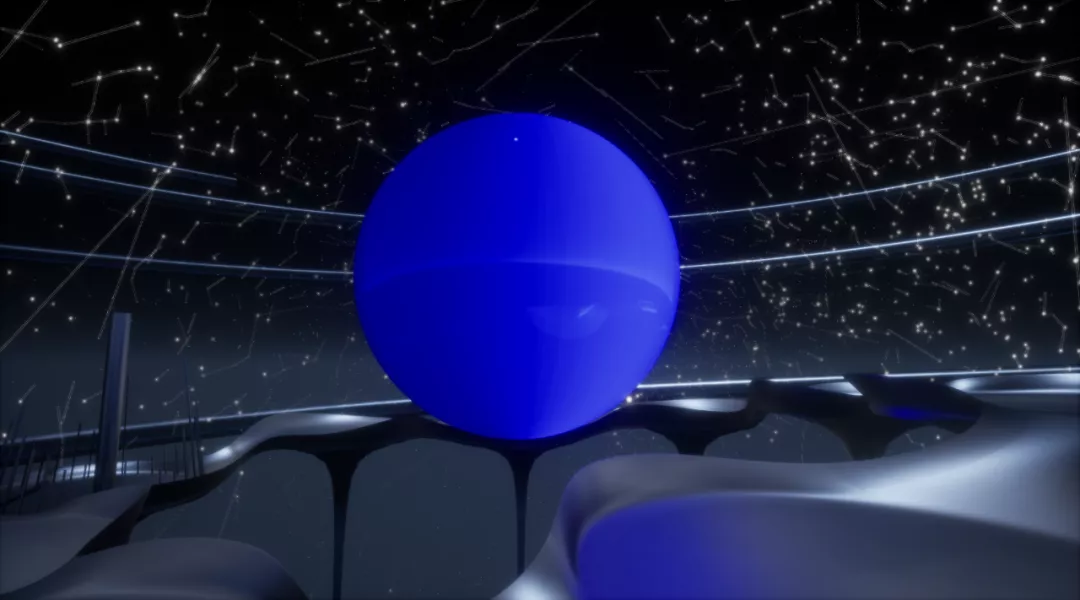 Diaspora(流散,古希腊语:διασπορά)的原生意义与人口的迁徙、流动有关,在某些文明中是宗教性的。而它的现代涵义则指向比种族、地缘因素更为抽象的文化或意识的抽离。无论是主动或被动的离散,古老的离散主体对地域界限的突破正如现代离散主体对主流话语的解构以及对范式的质疑。在去疆域化的网络社群中,这种倾向更为明显——离散者不再行走于大地,而是转换为数字游民表达对特定事物的关注以及采取的立场。
在字符、图像与声音的传播与交换过程中,离散成为一种美学从而能够被体验,尽管可能短暂而不稳定。地下文化、少数族裔社群、或是某些网络模因都可能潜藏着某个离散主体所寻求的归属意识。无论最终是否有实质性的转换,或是始终以文化表征的方式流散于数据之池,无论是希望或是幻觉,Diaspora隐喻替代性的方案,它意味着差异的可能性、自我认同的多元性。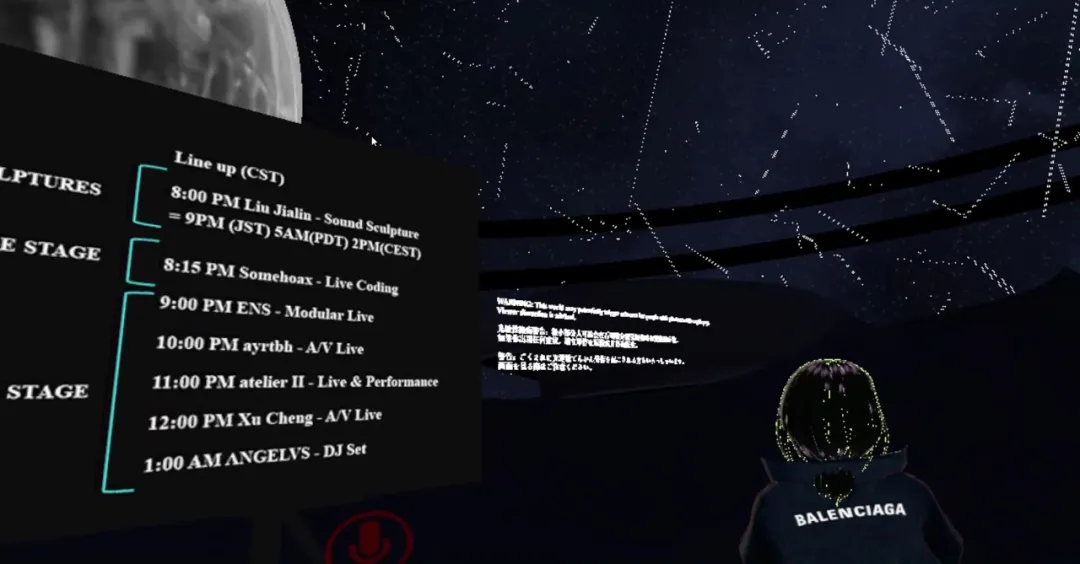 The original meaning of diaspora is related to the migration and movement of populations, and it is even religious in some civilizations. Its modern meaning, however, refers to a more abstract dissociation of culture or ideology. Whether active or passive, the ancient diaspora breaks through territorial boundaries just as the modern diaspora deconstructs the dominant authorities and questions paradigms. This phenomenon is even more pronounced in online communities - the diaspora population no longer travels on the ground, they become digital nomads focusing on particular things and taking different positions.
In the process of transmission and exchange of characters, images and sounds, diaspora becomes an aesthetic that can be experienced, even though temporarily and uncertainly. Underground cultures, minority communities, or Internet memes may all harbour a sense of belonging sought by the modern diaspora population. Whether there is ultimately a substantial change or it remains dispersed in the pool of data as a cultural representation, whether it's hope or only an illusion, diaspora is a metaphor for a certain alternative orientation, which implies the possibilities of difference and diversity of self-identity.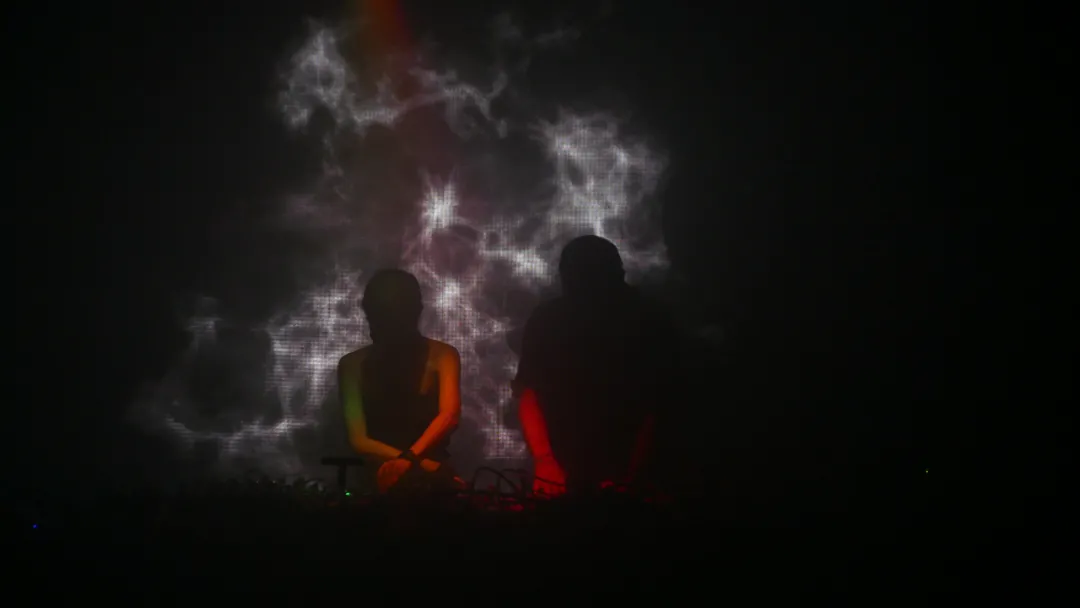 正如流散者所见之海市蜃楼,音乐是超越维度的乌托邦——光电与声波能量场构筑成暂时的庇护所,它转瞬即逝却又无时不在绵延之中涌动与回响,这是我们所相信并坚持的。作为对科技与媒介持续探索与思考的组织,Hyperscreen同时在虚拟与现实中呈现多媒体视听现场:旅法电子音乐-声音艺术创作者刘家麟为本次活动虚拟场景所创作的交互声音雕塑、台湾电子音乐人Somehoax的远程Livecoding、专注于模块合成器的电子音乐人ENS的氛围音乐、国内实验电子音乐的最早探索者之一ayrtbh的audiovisual live、艺术组合atelier II梦寐而戏剧化的现场即兴、声音艺术家徐程融合氛围与工业音乐的live set、最后回归舞池由Hyperscreen主创成员兼音乐人ΛNGELVS带来最新的dj set。而多媒体艺术家n.首次将他的视觉作品带入俱乐部和Hyperscreen虚拟场景。
正如主题所示,本次活动亦是Hyperscreen近期的最后一场线下活动。我们期待在虚拟世界发掘更多可能性,创造更独特的艺术体验。特别感谢ALL Club的场地支持以及上海社区电台(SHCR)以及广东时代美术馆媒介实验室的媒体支持。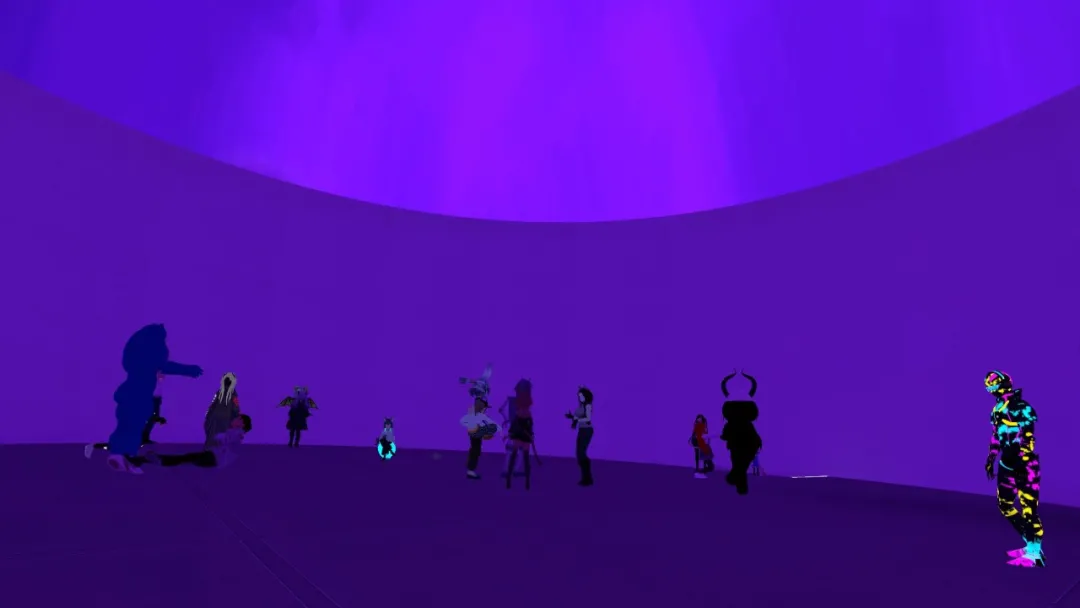 Like a mirage seen by the diaspora, music is a utopia that transcends dimensions - a transient shelter constructed by the energy field of sound and light, ephemeral yet constantly echoing in the flow of memory - that is what we believe and insist in. As a group that continues to explore and reflect on technology and media, Hyperscreen will present the multimedia live and exhibition both online and offline: interactive sound sculptures created by French-based electronic musician and sound artist Liu Jialin; remote Livecoding by electronic musician Somehoax from Taiwan; modular synthesizers liveset by producer ENS; audiovisual live by one of the first explorers of computer music in China - ayrtbh; an enigmatic and dramatic live improvisation by artistic duo atelier II; an ambient and industrial fusion live set by sound artist Xu Cheng; and finally a return to the dance floor with the latest dj set by Hyperscreen co-creator and musician ΛNGELVS. Multimedia artist n. will also bring his visual work to the club and Hyperscreen virtual world for the first time.
In line with the theme of Diaspora, this would be the last offline event of Hyperscreen in the near future. We look forward to exploring more possibilities in the virtual world and creating more unique art experiences. Special thanks to ALL Club for their venue support, Shanghai Community Radio (SHCR) and the Media Lab of Guangdong Times Museum for their media support.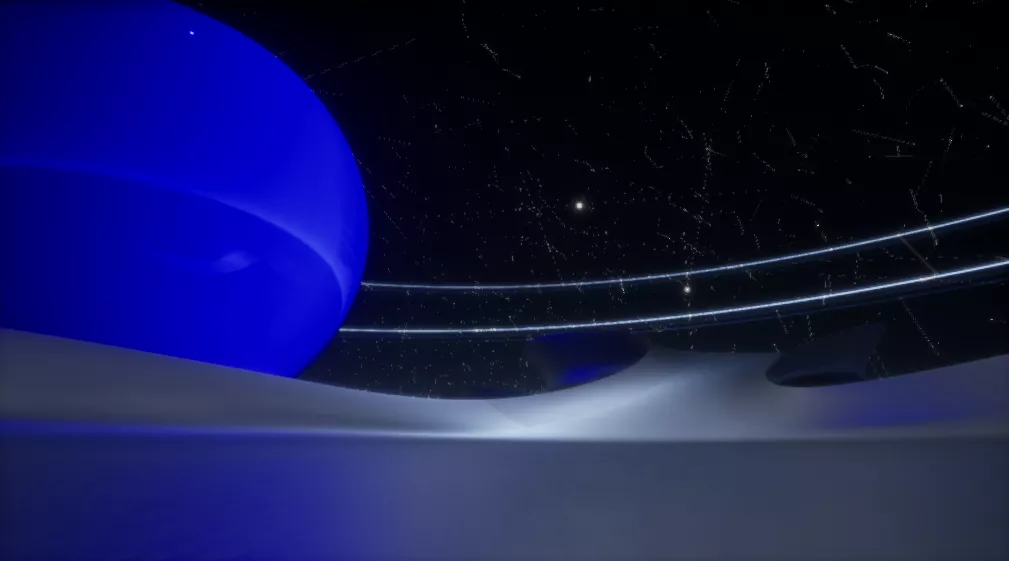 ARTISTS
刘家麟
Liu Jialin
刘家麟,旅欧作曲人、电子音乐-声音艺术创作者、Lisp 程序员。毕业于IRCAM,巴黎国立高等音乐学院,斯图加特国立音乐与表演艺术大学,上海音乐学院附中。师从作曲家Marco Stroppa, Thierry De Mey, Frédéric Durieux, Yan Maresz, Guillaume Connesson 等学习器乐与电子作曲、配器与音乐信息学。2018至2021年在法国巴黎国际艺术城进行艺术家驻留项目,并获得法兰西基金会Macari Lepeuve作曲奖与梅耶基金会的支持。
他致力于探索声音与空间的关系、电子音乐中的物理感与室内乐特性,并研究传统配器法以改良自动配器的技术。近期他痴迷于对物理建模技术与建筑、音响装置、乐器设计的结合,并将其实验成果运用到一系列近期作品之中。
Liu Jialin (China, 1995), composer, sound-artist, Lisp programmer. He is graduated from IRCAM Centre Pompidou, Conservatoire National Supérieur de Musique et de Danse de Paris, University of Music and Performing Arts Stuttgart, where he studied instrumental and electronic composition, music informatcs and orchestration with Marco Stroppa, Thierry De Mey, Frédéric Durieux, Yan Maresz, Guillaume Connesson. His is currently a composer-in-residence in Cité internationale des arts, and supported by La Fondation de France - Prix Macari Lepeuve and La Fondation Meyer.
Recently, he is obsessed with the physical modelling technology, and is devoted to exploring the combination of the physical modelling technology with the architecture, the sound installation and the musical instrument design, which are applied into a series of his recent works.
Somehoax
一个爱跳舞的键盘游侠。作品涉及音效设计、音像制作、网页编程及现场即兴代码,目前作为Toplap成员推广Algorave和Livecoding中。 Algorave宣言: 我们要求:
让我们进入表演者的头脑,进入整个人体乐器。
蒙昧主义是危险的,展示出你们的屏幕。
程序就是乐器,它们会自动变化。
程序是为了被跨越 - 人工语言就是途径。
代码可见也可听,底层的算法应该可被见,视觉输出同理。
现场编程不在于工具,算法就是想法。电锯是工具,这就是为什么算法有时比电锯更难发现。
A keyboard-rider who loves to dance. Works involved sound engineering, A/V production, web development and live coding. Currently promoting Algorave culture and Live coding workshop as a member of Toplap Asia.
Algorave Manifesto WE DEMAND: •Give us access to the performer's mind, to the whole human instrument. •Obscurantism is dangerous. Show us your screens. •Programs are instruments that can change themselves •The program is to be transcended - Artificial language is the way. •Code should be seen as well as heard, underlying algorithms viewed as well as their visual outcome. •Live coding is not about tools. Algorithms are thoughts. Chainsaws are tools. That's why algorithms are sometimes harder to notice than chainsaws.
ENS
作为模块键盘手的另一种彻夜狂嗨,他将0与1连成线条,试图用代码去描绘星星点点。沉醉于在场音乐的不确定性,每次演出都将带来不同的、无法重复的现场。音乐是人与人之间的偶遇,无法去刻意安排,当你我都在时,这一切才足够完整。
As a modular and keyboard player, another way of waveless crazy night, he will connect 0 and 1 into a line, trying to use code to describe the stars and nebulae. Immersed in the scene of uncertainty, every performance will bring you a different and unrepeatable music. In his opinion ,music, as an encounter with a stranger, can not be deliberately arranged. He is the king of Rong river.
ayrtbh
王长存(ayrtbh)的长期艺术实践亲近于数码、网络及算法等非传统艺术语言,常援引虚拟结构直接映照人们在既定空间的运动困境。现居上海/杭州,电子音乐人、艺术家、软件作者,国内实验电子音乐及电脑编程作曲领域的最早探索者之一,以 ayrtbh 为名创作跨越多个艺术领域的大量作品。曾在 Sub Rosa、Post-Concrete等重要国际厂牌发表专辑,作品入选《中国声音前线》、「二十世纪电子音乐历史回顾」等选辑。近年着眼于网络艺术与电脑音乐,创作软件及声音影像电脑软件装置。2017年于美国厂牌Detroit Underground发行专辑「MTK」;2018年,电子音乐专辑「匿名者之歌」(黑胶,大福唱片)。2019年于深圳OCAT-双个展「王长存:逻辑的感觉」。2020年电子音乐专辑「All services are suspended」(CD,西班牙厂牌Diffuse Reality)。2021 年受艺术机构 TCHA 委托发布首件 NFT 确权作品「现实真没劲」。
Wang Changcun(ayrtbh) is a sound artist, electronic musician and computer bug programmer. In 2003, six of Wang's work were chosen for the first sound art compilation CD "China: The Sonic Avant-Garde" which published by the American label Post-Concrete. In the same year, he performed at the first large scale international experimental music festival "Sounding Beijing 2003" in November. October 2004, he had his first performance tour of Europe, which includes France, Netherlands, Belgium, etc. Then he got his solo CD "The Mountain Swallowing Sadness" published by the Belgian label Sub Rosa, and "Parallel Universe" by the American label Post-Concrete. He also appears on many experimental music, sound art compilation CDs, for example the compilation "AN ANTHOLOGY OF NOISE & ELECTRONIC MUSIC #4" which published by Sub Rosa. ayrtbh's 2017 album "MTK" was released by American label Detroit Underground, 2018 vinyl album "Song of Anon" was released by Beijing label D-Force. 2019 duo solo exhibition "Wang Changcun - The Sensation of Logic" at OCAT museum Shenzhen. 2020 CD album "All services are suspended" released by the Spanish label Diffuse Reality. 2021 NFT work "The Internet is so Boring" , commissioned by the art institution TCHA.
atelier II
我们的创作,试图探讨这样一种悖论:一种存在于自然界之外,又绝望地置身其中的矛盾状态。自古而今, 人类深明生命的规律,但无力突破其局限的悲剧,由此生成各种式样的有趣体系 – 文化、社会、信仰、价值观、哲学和生活方式 – 从粗暴愚昧至荒唐可笑,可谓无奇不有。作为对自身困境独具清醒意识的个体,我们相信以艺术的手段来对时间、空间、偶然性、虚无、生物生命、衰退和死亡进行存在主义的探究,不仅合理且诱人。令我们着迷的正是那些为使我们能够继续生活下去而时常被歪曲、被包裹在虚无的幻象之中,最后又被虚掷的事物。那些无标准答案的终极问题(如死亡),或由于我们自身认知局限而无法完全用科学或理性的方式领会的事物,则是我们作品的主题。
相比精确地理性认知我们的创作意图,我们更期望我们的作品能够唤起观者情感和心灵层面的个体反应。
We are performing with the intention to create overwhelming sound landscapes that are facilitating moments of meditation on human condition. Our skeletal performance structure allows us to improvise and actively search for abstract sounds that we layer on top of each other. The music that we propose can be categorized as ambient music but it is not homogeneous, the rhythm and the melody are not a central focus but the long drones and sonic textures, some bright and light others heavy, dark and disturbing. Sometimes we incorporate the element of ritual which is a fascinating phenomenon regarding the human nature and wishful thinking. Our sound sources are field recordings, synths, various samples and using a variety of effects will make the sound source unrecognizable.
Xu Cheng
徐程(b. 1980),生活在上海的声音艺术家,声音活动实践者与组织者。他涉足实验音乐、自由即兴、电子音乐等多个领域。于声音的本体论外,徐程也关注着声音与社会空间的相互关系与其相关行为与显现方式。
声音艺术/电子音乐厂牌"Play rec"主理人之一、"朗/读"——一个艺术场馆外的系列声音实践活动的发起与策划者之一。他自2005年发起Noishanghai计划,推广实验音乐与噪音。曾是中国极端噪音团体Torturing Nurse成员,并参与或组建the Mustangs in Social Modulator、Shanghai Quintet及Consciousness feedback group等多个实验及即兴团体。Ars Electronica 2012年"声音艺术与电子音乐组"获奖者。其作品以视听表演、装置、音乐、剧场等多种形式呈现。
Born in 1980, Xu Cheng is a sound artist based in Shanghai and a practitioner and organizer of sound activities. He dabbles in experimental music, improvisation, electronic music and so forth. Apart from the ontology of sound, Xu is also interested in the interaction between sound and social spaces and its behaviors and manifestations.
He is the co-founder of Chinese sound-art/electronic music label "play rec", and the organizer of "Read/Aloud", a practice program of sound/music outside of museums. He has been the organizer of the NOIShanghai event from 2005 to promote experimental music and noise. He is the former member of the Chinese noise group "Torturing Nurse", and has participated in a myriad of experimental/free improvise groups, including "the Mustangs in Social Modulator," "Shanghai Quintet," "Consciousness Feedback Group". As a prize winner of the 2012 Prix Ars Electronica in digital music & sound art depart. Xu works with varied forms of sound art: installations, experimental music, performances, and theatre.
Xu Cheng - 幻染 Immersion in Hallucination
ΛNGELVS
HYPERSCREEN主创成员,喜欢UK Bass和Techno Co-creator of HYPERSCREEN, she loves UK Bass and Techno
n.
多媒体艺术家,其作品形式涵盖影像、新媒体装置、摄影与多媒体表演等类型。
他的作品以抽象化视觉语言作为导向,通过对熟悉与日常视听元素的解构,裂变与重组,创建基于时基媒体的创新表现形式。他曾任纽约 Harvestworks 数字媒体艺术中心助理研究员与技术人员、瑞士苏黎世艺术大学"跨文化交流"项目驻留艺术家。他的作品与表演曾在纽约、苏黎世、伦敦、香港、上海等城市与地区的艺术空间展出。
Visual artist.
Ranging from computer graphics, photography, media installation and multimedia performance, his research-oriented practices explore the new artistic approach of time-based media and the hybrid forms of cinematic art. His works have been showcased and exhibit in New York, Zurich, the UK, Hong Kong, and other countries and regions.
CREDIT
curator: cyn aka ΛNGELVS
technologist & gardener: changbai
visuals & carpenter: jyolyu
environment artist: cyn & jyolyu
TSM Switchboard: zep sheh